OTP Bank Liga Roundup – Matchday 21
Written by Gaby Kovacs
The weekend's games kicked off at the Bozsik József Stadion on Friday evening where coach István Szabó took his Kecskemét side to the capital to face high flying Honvéd. The home side had scraped 2 wins and a draw since the season restarted after the winter break, but with performances very much below par. Today they were found out. 2000 fans saw Lencse open the scoring for the visitors 3 minutes before half time, and the lead was doubled 3 minutes after the break, Lencse again with a great finish. Szavics made it 3 nil to Kecskemét on 63 minutes, showing quick feet and a good left foot finish, before Honvéd grabbed a consolation on 82 minutes through Faggyas. The day belonged to Lencse though, who completed his hat trick on 84 minutes, heading home unmarked to take his tally to 9 for the season. Despite the defeat, Honvéd remain 4th while Kecskemét sit 7th.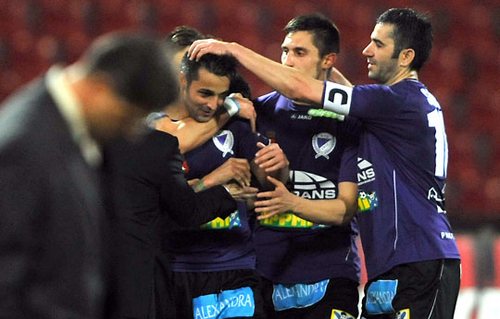 5500 were in attendance at Oláh Gábor utca in Debrecen to see the league leaders take on strugglers Lombard Pápa, and they were soon on their feet as Kulcsár gave the home side the lead on 6 minutes. It remained that way until half time and 5 minutes into the 2nd half, in form Frenchman Coulibaly put Debrecen 2-0 up with a very neat finish. The champions elect were coasting, but Pápa obviously hadn't read the script. First, Tóth pulled one back on 56 minutes before Benko did the unthinkable and equalised just  11 minutes later. The home side were given a lifeline though when referee  Dániel Becséri gave them a dubious penalty with 15 minutes to go. Bódi took the kick and saw it saved to leave the away side celebrating an unlikely point and the champions elect showing  they might just be human after all. Debrecen remain top, undefeated on 51 points, while Pápa slip into the relegation places, one point from safety.
The Rákóczi Stadion saw 2500 fans come to see this relegation battle game between Kaposvár and Siófok. Nyári gave the away side the lead on 17 minutes and just 3 minutes later Haraszti had doubled that before Simon put Siófok into dreamland on 37 minutes to give them a 3-0 half time lead. Bebeto (no, not that one!) started a spirited comeback for the hosts in the 57th minute to score just 3 minutes after coming on, and Haruna made the last 17 minutes nail biting for all concerned, pulling it back to 2-3. It wasn't enough though and Siófok secured a huge 3 points.
Pécs, punching well above their weight, welcomed 3rd placed Videoton to the PMFC Stadion and 4000 fans were in attendance to see how they would fair against Paulo Sousa's men. It was Nemanja Nikolics who put the away side ahead on 12 minutes with his 12th goal of the season and Gyurcsó made sure Vidi would go into the half time break with a 2-0 lead. Andorka sparked Pécs into life by pulling one back on the 55th minute,  but a penalty converted by Nikolics in the 69th minute gave him his 2nd of the game and restored Videoton's 2 goal margin.  It finished, Pécs 1 Videoton 3.  Videoton remain 3rd, but putting pressure on Gyõr now. The heady heights of 6th for last season's 2nd division champions.
The divisions bottom two met in Budapest, where home side Vasas welcomed winless Zalaegerszeg to the Illovszky Rudolf Stadion. 2000 fans saw the return of midfielder Balázs Tóth for the home side after a move from 2nd division Gyirmót and fittingly he scored in just 7 minutes, and that's how it remained at half time.  ZTE had been playing very well recently despite their position and it was no surprise when Jasarevic equalised on 73 minutes. This sparked a crazy last 15, when Brkics put the away side 2-1 up just 2 minutes after their equaliser, but dreaming of that first win, their lead lasted all of 3 minutes as Dajic made it 2-2. A point probably not enough for ZTE who need wins to stand any hope, but they would of took that after Kovács broke their hearts in the 90th minute to give Vasas a 3-2 win. Great entertainment that leaves ZTE rock bottom on 8 points while Vasas sit 13th in what is going to be an incredibly tight battle to avoid the last relegation place.
Another fantastic crowd at the DVTK Stadion as 9000 fans watched Diósgyőr play Újpest. One goal was enough to settle this one and it came from former Real Madrid man Fernando in the 75th minute, following a neat build up. Újpest looked a tired side after their midweek away defeat in the first leg of the Hungarian cup semi-finals, and they remain in the relegation mix, currently occupying 12th place with 21 points. This 1-0 win moves DVTK up to 5th place, now just 2 points behind  Honvéd in 4th.
Gyõr's game at home to Paks on Sunday was held up for 2 hours as the stadium was evacuated due to a bomb threat. A telephone call to the club said that a bomb had been planted and set to go off at 4pm, which was the scheduled kick off time.  Thankfully, after a search,  nothing was found and first reports suggested this was the work of Siófok fans looking for revenge following a recent fight between the two sets of supporters.  On the pitch, it was the last 30 minutes of this match that provided great entertainment, as firstly Koltai put Gyõr ahead from the penalty spot on 62 minutes. This was the first of 3 goals in 5 minutes for the home side with Trajkovics doubling the lead on 65 minutes before Pátkai scored just 2 minutes later. Magasföldi scored for Paks on 73 minutes but Gyõr and Pátkai weren't finished yet as he netted his second on 81 minutes. Great entertainment for the 2200 fans in attendance, but it was the TV audience who lost out, with this game being cancelled for live broadcast due to the earlier hold up. This win for Gyõr puts them just 4 points behind leaders Debrecen and 6 points ahead of 3rd place Videoton. Paks sit in 8th position, exactly mid table.
8000 fans were inside the Rohonci úti Stadion in Szombathely as Ferencváros were in town to play Haladás. Kenesei had the first chance to put the home side ahead after a penalty was awarded in the 30th minute, but he duly missed and it remained even at half time. Ferencváros then took the lead on 56minutes as Kulcsár scored. It was looking like Fradi would hold out for all 3 points before referee Viktor Kassai awarded another penalty to Haladás on 86 minutes. This time Kenesei converted and a draw looked the likely result. Not, however in the minds of Haladás, as late into injury time, Kenesei netted the winner. Ferencváros were left fuming at the referee and drop to  10th place in the division as Haladás leapfrogged them to move into 9th.
This was truly a magnificent weekend for Hungarian football, with big crowds and great matches a brilliant and much needed advert for the game. Fingers crossed for more of the same next week!
Next week's league fixtures:
Siófok vs Diósgyőr (Friday)
Ferencváros vs Vasas
Kecskemét vs Haladás
Lombard Pápa vs Pécs
Paks vs Kaposvár
ZTE vs Gyõri ETO
Újpest vs Debrecen (Sunday)
Videoton vs Honvéd (Sunday)
Hungarian League cup semi-final first legs:
Lombard Pápa vs Videoton (Tuesday)
Kecskemét vs Debrecen (Wednesday)