Gaby Kovacs meets Luton Town's János Kovács
Who is you favourite player? Ronaldo? Messi? Rooney? Mine is a player probably little known to the wider football universe, and today I spent a couple of hours getting to know János Kovács a little better.
János is a 6ft 4 centre half currently playing for Luton Town, on loan from League 2 Hereford United.  I first met him over a year ago in his first spell at Luton and was instantly taken aback that the guy they the fans dubbed "The Terminator" was more like the gentle giant.
He was born in Budapest, Hungary in 1985 . His route into football was through MTK Budapest's youth academy where he went on to make one senior appearance for the club, before being loaned out to Siófok, then in Hungary's second division. In 2005 he joined Chesterfield following a trial at the club. A short spell on loan at York city was followed by a transfer to Lincoln city in 2008. In February 2010 he joined Luton Town on a five month contract before joining Hereford united in the summer. János started the season as captain and due to circumstances I cannot go into for now, found himself on the transfer list at the start of this season. He joined Luton on a one month emergency loan on October 19th.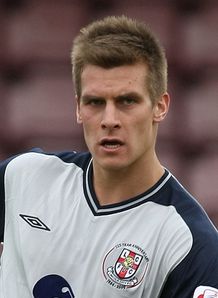 How did he end up playing in England?
János is very good friends with Márton Fülöp, the West Bromwich Albion goalkeeper, who in 2005 was on loan from Tottenham Hotspur at Chesterfield. He was asked about any young promising centre backs in Hungary and recommended taking a look at János. As an 18 year old it was a huge decision to come over to England but after a successful trial, he signed for Chesterfield. The club were obviously not silly, snapping up a player who had represented Hungary at every level excluding the senior team, and for János it was a chance to play in England, which is something he always dreamt about.
What is your career highlight so far?
János sees his highlight as playing for the Hungarian under 21 national team. His face filled with pride as he recalls lining up while the anthem was played and tells me how it feels inside as a player to represent your country. On future chances of playing for the full national team, while he is not stupid, he believes the current manager picks players doing well regardless of the league and division, but thinks he may have to be playing back in Hungary's top flight or at least league 1 in England  to appear fully back on the coaches radar.
Which team in Hungary do you support?
Thanks to his granddad, his team in Hungary is Ferencváros but it was English football that János always kept a keen eye on and in particular Manchester United (editor will be happy!). Due to his links and first break into football he also keeps an eye out for MTK results.
Who was your favourite Hungarian player?
This was an easy answer with , the late great Puskás being his all time favourite. Again he talks with pride about being luckily enough to meet him as a youngster, and can still picture it to this day. Currently, his favourite is Zoltan Gera, the West Bromwich Albion midfielder, who he says is not only a great footballer but a great friend and person.
At this point the Dictaphone decided to stop working so the rest of the questions were lost!!
I can tell you that János is a very modest person and someone who genuinely speaks from his heart. He sees his future in England for at least another five years before returning to Hungary. At which club, who knows, but he has turned down Ferencváros twice in recent years so it could be third time lucky for Hungary's biggest club.
He definitely wants to stay in football when he hangs his boots up, be it as a manager, coach, agent etc. We spoke about the future of Hungarian football and his belief is to concentrate on youth, by creating more academies and investing heavily into them. He goes on to tell me how our youth teams up to under 21's have always done very well, but we need to find that missing link between that level and full international.
János will not mind me saying that in his first spell at Luton Town, despite a debut goal, things didn't go as well as both parties would've liked, and at the end of the season most Luton fans were grateful but pleased to see him go. It shows great strength from a player who admits he was at a low point in his life on and off the pitch to return to Luton like a brand new player, and now the fans are desperate for him to make his loan spell permanent. In a recent poll on a Luton forum asking if János should stay or go, 199 said yes, while 3 said no (probably Watford fans!)
Who knows what the future will bring, and if scouts have been watching, a move to a league club will certainly be on the cards, but as he says, he truly loves Luton town football club, from the fans, all the way down to the kit man, and would love to be able to stay and get the club back into the football league.
I would like to thank János for his time and hope next time we meet, a new contract at Luton Town will have been signed, as my son is already bugging me for another signed János Kovács shirt for Christmas!!
Today though, I think I was the kid again, meeting a hero and great man. köszönöm szépen!